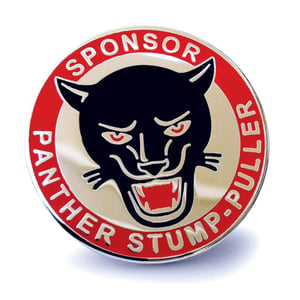 £

15.00
The Stump-Puller is a dual engined M100 Panther built by www.VintageChop.com. Created with the aim of land speed racing at Pendine and then going to Bonneville from the UK with the intent of contesting a Land Speed Record.
Getting a couple of sizable sponsors is difficult at best if not impossible, so I've decided to try get lots of small sponsors. So this is where you come in... for your sponsorship of £15, you get an enamel pin, as well as a warm fuzzy glow inside.
100% of the money from these will be used to help VintageChop get the Panther Stump Puller race ready.
In short you get a cool pin badge, and you help support vintage racing at the same time!
This is a high quality, 27mm soft enamel badge and its FREE international postage.
THANKYOU FOR YOUR SUPPORT